Interest rate rises expected in 2022. Get the right financial advice for your mortgage now.
November 17th 2021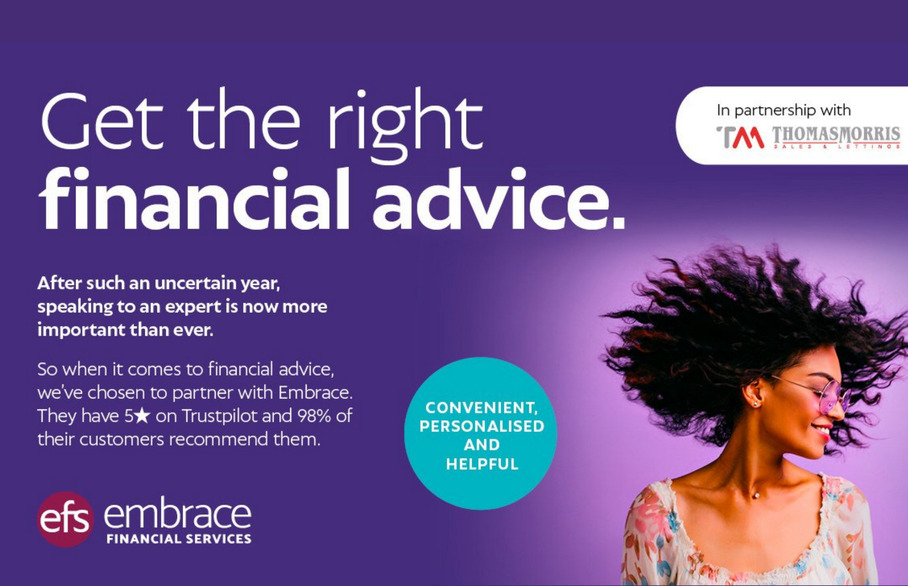 "May You Live In Interesting Times"
This famous quotation has rarely been more true than it is today.
At the start of 2021 few of us will have anticipated what this year would bring. A year that will be remembered, no doubt for Covid Jabs, staycations, face masks as well as increasing food and energy prices….indeed we do live in interesting times!
Disruption to the distribution of goods and increasing energy prices has led to many having an understandable level of worry and anxiety about their finances and, in particular, their mortgage repayments and how they can afford to pay for them in the future.
In November the Bank of England made the decision to hold the base rate at 0.1%. This is the rate they charge other banks and lenders when they borrow money and it influences the interest rates that many lenders charge for mortgages loans. It will be reviewed again in December. With predictions of inflation hitting 5% next year (*), it is looking increasingly likely that rates may rise and, bearing in mind that the Bank of England's base rate has been below 1% for over 10 years, and is currently at its lowest point for over 300 years, homeowners and potential homeowners should take note.
It's an ongoing concern for many and the reason why Embrace Financial Services is now encouraging existing homeowners, and even those contemplating buying for the first time, to review their mortgage arrangements as soon as possible. It really is an excellent time to find out if money could be saved on mortgage repayments and if a better deal, to meet changing circumstances, could be found.
Here's why:
If you've got a two, three, four or five year fixed rate mortgage i.e. one where the interest rate is fixed for a set period, it's possible you may be able to get a better mortgage rate now and ultimately reduce your monthly mortgage payments. As stated earlier, the UK's Bank of England base rate is at a historic low. Currently just 0.1% compared to 0.5% in 2016 and 0.75% in 2018 meaning, if you set your deal at that time, you could be paying more than you have to for your mortgage loan.
Many existing fixed rate deals may be coming to an end in January and February next year and, if so, you may find you are automatically placed on the lender's standard variable rate, leading to higher monthly repayments being due. Taking action now could avoid this. In fact you may be able to secure a new mortgage offer up to 6 months in advance.
Recently we have seen many lenders start to withdraw market leading products due to increased demand and increased press speculation that interest rates will rise. Acting quickly to secure a mortgage product may be sensible, giving your finances some stability and ensuring you have a good choice in the mortgage products on offer.
When reviewing clients mortgages we have found many people are surprised at how good current rates are and how much interest they can save. House prices have dramatically increased over the last few years, which means most clients will see their debt is now a smaller percentage of their property value resulting in them qualifying for lower risk mortgage products. Increasing house values combined with historic low interest rates really does mean in a world of increasing bills, that you may be able to offset some of the increased energy and food costs with lower mortgage payments.
If you are happy with your current payments, you may want to consider remortgaging and reducing the term of your mortgage when you secure a more attractive mortgage deal. While rates are at an historic low, it is often worth considering overpaying monthly mortgage payments and reducing their mortgage term. This can help to reduce the overall interest paid and lower the impact of rates increasing in the future.
At Embrace Financial Services we have access to literally hundreds of mortgage deals from most of the UK's leading high street lenders – some offered exclusively to us. By talking with one of our Financial Consultants you'll have the chance to discuss your current mortgage arrangements, whatever they may be, and find out what other deals may be on offer to suit your personal circumstances and budget. And, the best bit is, it will mean you don't have to do the leg work yourself.
How to review your mortgage
So if you have questions about your finances and whether you are currently have the most appropriate mortgage deal for your current circumstances, why not book an appointment with Embrace Financial Services today?
It may be that the current " interesting times" could become even more interesting! To book an appointment call us on 0845 009 1098 or click here for more information and to book an appointment online.
*https://www.bankofengland.co.uk/monetary-policy-report/2021/november-2021
---
YOUR PROPERTY MAY BE REPOSSESSED IF YOU DO NOT KEEP UP REPAYMENTS ON YOUR MORTGAGE.
Embrace Financial Services usually charges a fee for mortgage advice. The amount of the fee will depend upon your circumstances and will be discussed and agreed with you at the earliest opportunity.