Check Out These Ten Top Hacks if You Want to Move Home Easily
May 13th 2022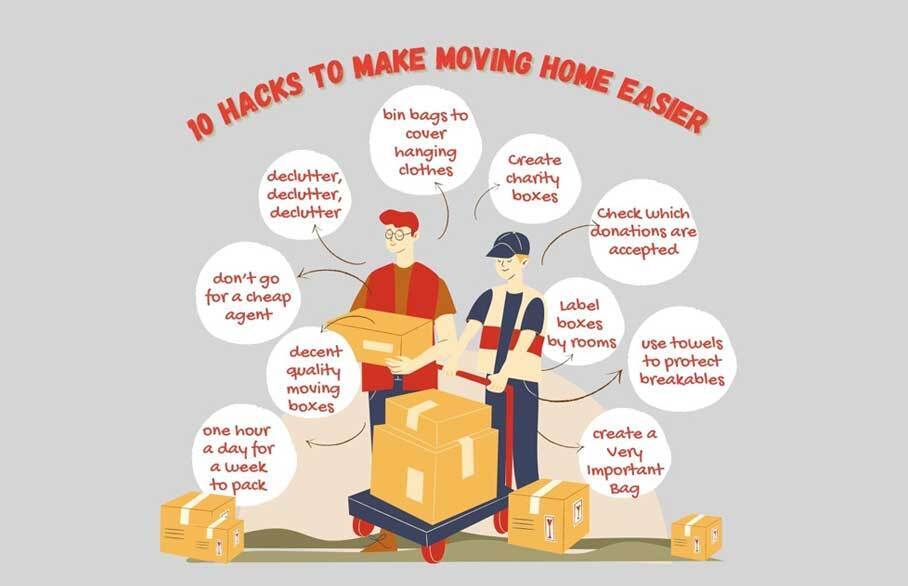 Let's talk about hacks. No, not the slang word for a mediocre journalist.
And we're not talking about the type of hacks that strike fear in the heart of companies and organisations whose websites and systems have been targeted by cyber crooks.
The hacks we're looking at in this article are super helpful, easy to implement ways to make selling or moving home much easier.
Here's our top ten:
When selling a property, don't go for a cheap and cheerful agent – they can often leave you out of pocket.
This is timeless advice ……. declutter, declutter, declutter.
Use decent quality moving boxes of a uniform size depending on what will be in them, i.e., books, clothes etc. A mishmash of odd shape boxes makes moving mishaps much more likely.
Set aside one hour a day for a week to pack things up. You'll be amazed at how much you'll get done by the end of it.
Use large bin bags to cover hanging clothes in bunches of 5-10 hangers.
Create several charity boxes, and throughout a couple of weeks, fill them with items that will still benefit someone else. Then take them to the charity shop of your choice.
Keeping to the charity theme, call the shop you're thinking of donating to and check what they accept.
Box clever by labelling boxes with the rooms the contents belong in. And write on each of the boxes' sides rather than on top of them. Then, when they are stacked up, you'll still be able to see the contents and where they should go.
When packing things up, save money and time by using towels, dishcloths, and blankets to protect breakables.
And finally, create a VIB – Very Important Bag – a couple of weeks before your moving date. This can be added to nearer the time and be used to put important documents like passports, any keys you need, spectacles, medicines, and anything else you feel is essential. Keep this with you on moving day.
If you're thinking of selling up and moving on, we would love to share some more advice on doing it successfully and with the minimum fuss.
Or get in touch with your nearest branch