The Questions Local Landlords Need to Be Asking Letting Agents
June 14th 2022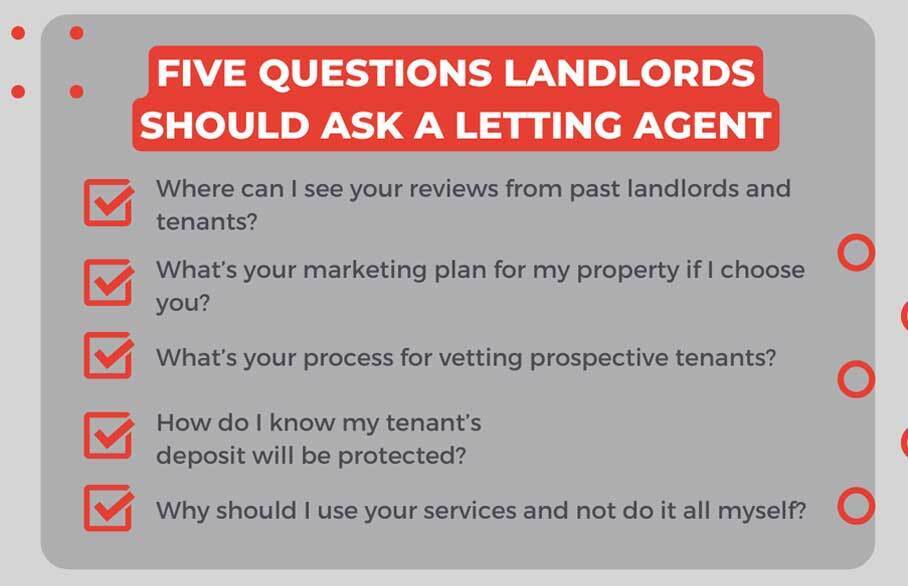 Choosing a letting agent is often the most significant decision a landlord has to make.
Why?
Well, get it wrong, and you could be lumbered with poor service, problem tenants and being left out of pocket.
That's not to mention the time wasted, energy drained and nagging headaches that go hand in hand with using a substandard letting agent.
But this doesn't have to be the case. By asking the questions below to letting agents you are considering working with, you'll stand the best chance of selecting a winner rather than an also-ran.
1. Where can I see your reviews from past landlords and tenants?
A good letting agent will have plenty of positive reviews across Google, social media and other platforms they'll happily point you in the direction of.
2. What's your marketing plan for my property if I choose you?
A skilled and experienced agent won't just tell you how they'll get the best tenants paying a competitive rent. They'll show you. This is done by sharing past examples of their marketing of properties similar to yours.
3. What's your process for vetting prospective tenants?
Any agency worth dealing with will have a clear, step-by-step process covering every aspect of the referencing process. They will also be able to talk you through this, as when a tenant is poorly vetted, it can lead to massive issues further down the line.
4. How do I know my tenant's deposit will be protected?
It's the law that letting agencies must be signed up to one of the government-backed tenancy deposit protection (TDP) schemes. Run a mile if a letting agency responds to this question with a blank look.
5. Why should I use your services and not do it all myself?
A good letting agency ensures that landlords get the best possible rent, attract great tenants, carry out thorough referencing checks and schedule regular property inspections. In addition, they keep you on the right side of the law and are on hand to deal with any repairs or maintenance issues if you use their fully managed services. All of this saves landlords time, money and hassle throughout a tenancy.
Or get in touch with your nearest branch