Thomas Morris awarded Relocation Agent Network Agent of the Year 2021
December 7th 2021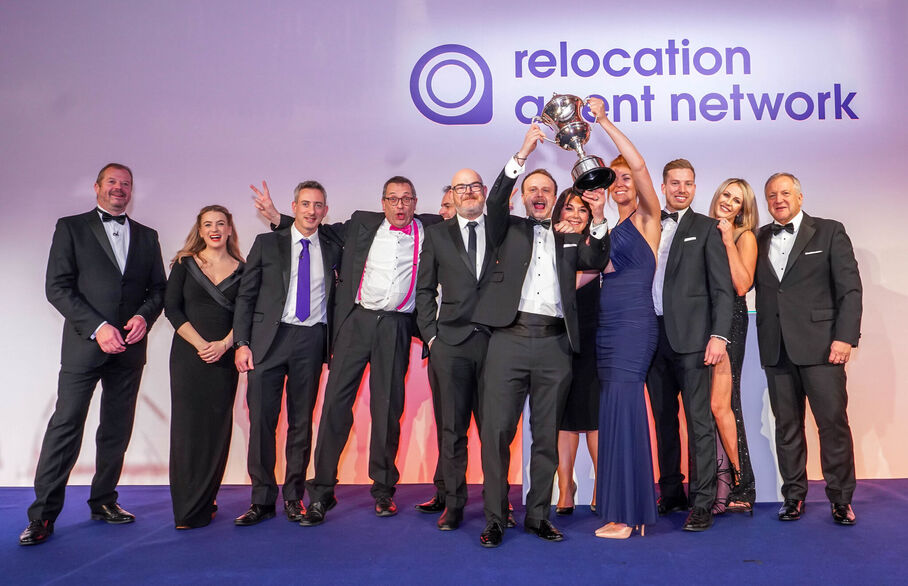 Thomas Morris collect the Relocation Agent Network Agent of the Year Trophy!
THOMAS MORRIS WINS TOP AWARD AT PRESTIGIOUS ESTATE AGENCY EVENT

Local estate agent, Thomas Morris is celebrating being crowned the 2021 Relocation Agent Network Agent of the Year. Thomas Morris received their award at this year's Relocation Agent Network Awards Dinner held on Friday 3 December at the Hilton Birmingham Metropole.
The Agent of the Year Award is the most coveted prize Relocation Agent Network, a national network of selected estate agents, can give. Nominees are selected for the award because of the outstanding service that they have provided to their customers. They are judged on all aspects of estate agency, from marketing, customer care and professionalism, to experience, reputation and commitment, which are all analysed in detail to decide the winner. The win was announced by 2021 Awards Dinner host and television broadcaster and technology journalist, Georgie Barrat and CEO Vaboo Johnathan Stein.

Three Additional Awards Won!
In addition to collecting the night's top prize, Thomas Morris was also awarded three more accolades, the Best Agent Regional Award – East Anglia & Essex, Customer Service Award and Ryan Coyne won Employee of the Year.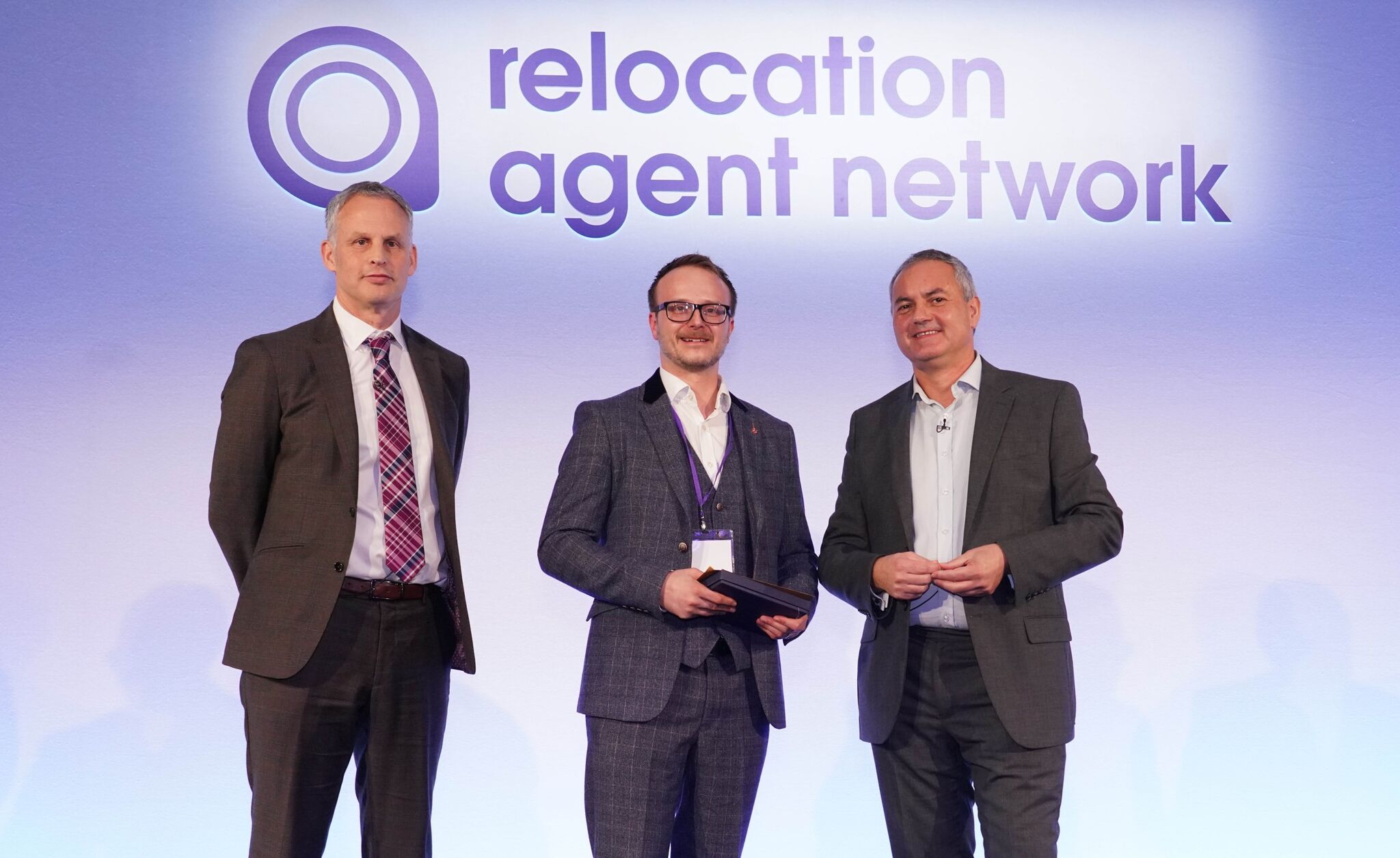 Ryan Coyne is presented with the Relocation Agent Network Employee of the Year award
The Best Agent Regional Award is based on a number of strict criteria including customer satisfaction, a proven record of helping relocating buyers move in and out of the local area as well as their overall support to Relocation Agent Network and its members. Whilst the Customer Service Awards recognise members that have been most successful in assisting people moving area over the past year.
Relocating customers are an important element of Relocation Agent Network: if a customer plans to move to another area of the country, their Network agent will recommend another Network member so that they get the best advice & assistance in both their departure and destination locations.
Thomas Morris Sales & Lettings Managing Director Simon Bradbury said:
"We are delighted to have won Relocation Agent Network's top award, Agent of the Year. We would never have won the accolade without the commitment, hard work and professionalism of every member of the Thomas Morris team. It's a clear message to all of our buying and selling customers – the service that we provide is the very highest in the Thomas Morris and across Relocation Agent Network."
Andrew Scott, Relocation Agent Network's Managing Director said:
"Congratulations to Thomas Morris, for their well-deserved win. Our Agent of the Year Award is the pinnacle accolade and recognition of our Network year. In our opinion Thomas Morris are among the UK's most accomplished estate agents. As our most coveted award, the Agent of the Year can only be won by an agent that delivers outstanding customer service day in, day out, and that's exactly what Thomas Morris does."
Looking to sell or rent your property?
If you are looking to sell or rent your property, click here to book your appointment online, or call our Valuation Hotline on 0333 242 0872.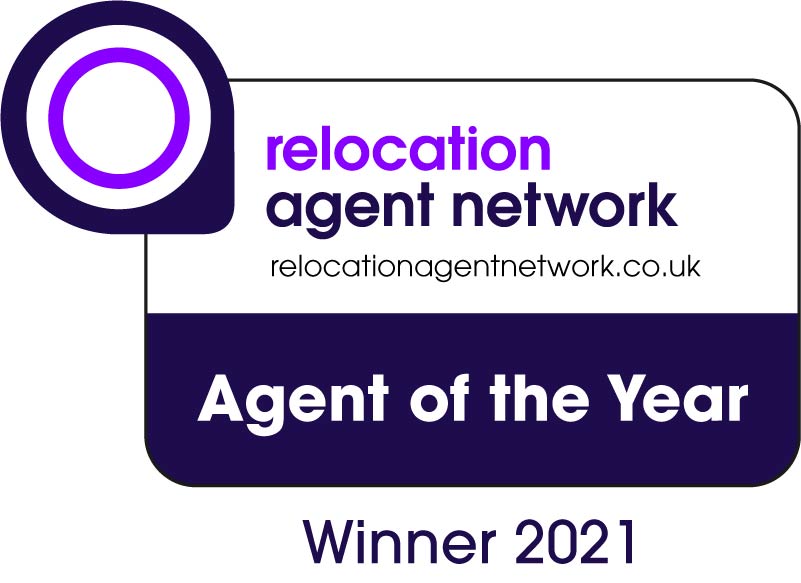 The full list of the 2021 Relocation Agent Network awards is as follows:
2021 Awards are:
Employee of the Year - Ryan Coyne, Thomas Morris
Supplier of the Year - Acaboom
Best Agent Regional Award:
East Anglia - Thomas Morris
Greater London - Driver & Norris
South East - Miles & Barr
West - Castles
South Coast - Homes
Thames Valley - Duncan Yeardley
South West - Webbers
Central - Richard James
South Wales - Dawsons
East Midlands - Pygott & Crone
West Midlands - Brown & Cockerill
Yorkshire - J R Hopper
North East - J W Wood
Cheshire & North Wales - Barbers
North West - Ryder and Dutton
Scotland - Maloco and Associates
Customer Service Award:
– Category A - Pygott & Crone
– Category B - Thomas Morris
– Category C - Rush Witt & Wilson
– Category D - Bond Residential
– Category E - Richard James
– Category F - Michael Anthony
– Category G - Duncan Yeardley
– Category H - Sparks Ellison
– Category I - Driver & Norris
Outstanding Achievement Award - Richard Tucker
Agent of the Year 2021 - Thomas Morris